'Twas a cold night, and me timbers were a-shivering. I surveyed the wreck of my life from my reflection in a puddle. 'Aaarrrrr, Ned me old fruit cake, ye be a right mess. Ye be untidy and dirty and down and out. Ye be fit for the knacker's yard.'
Basil, my trusty parrot who had accompanied me on all my adventures, took one look at me, and said in his croaky voice, 'Cor Blimey.' From that moment on, I knew I had to change.
'How,' I hear you ask, 'came you to be in this state?'. Well now that is a tale, oh yes. And on this very page on this amazing interweb, I shall tell that tale. For the first time, I shall tell how:
I found myself destitute
Pastor Jack found me, and rescued me from certain death
Pastor Jack adopted my sins as his own
The Pastor took me to his Church - The Och Cult
Pastor Jack allowed me to join the secret inner circle
I went to a vernal equinox new life festival
I had the honour of being picked as the mock sacrifice
I danced around the tree of life

For the full story, click here
To see the amazing Och Cult Dance, Click here.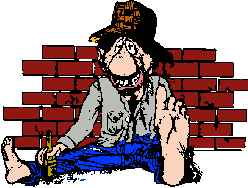 I was in a proper state before the Pastor rescued mee
Need some advice?
Here is a picture of me at the cult celebrations. I had to strip naked before being tied to the altar of new life. I was allowed to wear a tree leaf of my choosing, and this original art work below shows me choosing which one to wear.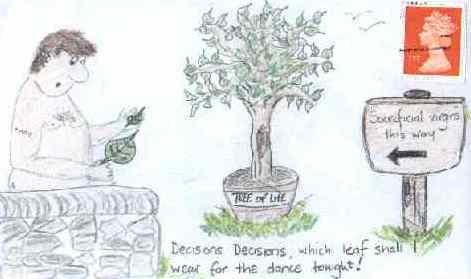 © Sister Elaine Carder of the Indulgence 2000