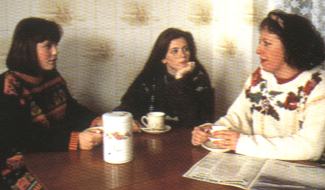 Mandy Jordache moved to Brookside Close with her daughters Rachel and Beth. After some time, the husband from Hell reappeared, and, amazingly, Mandy let him back to live in the house, and this despite the fact that the house was owned by a woman's aid type service.

Trevor soon reverted to type, and Mandy was beaten and abused by the man.
Many put up with this for some time, until it appeared that he'd assault Rachel. From that moment on, his days were numbered, and in time Mandy stabbed him following a fight.


Sinbad, window cleaner and part time member of RELATE, helped Mandy to dispose of the body - under Mandy's own patio! No-one told Rachel, and she's been moaning about 'never being told nothing' ever since.

Eventually the body was uncovered, and Mandy and Beth stood trial.

It was dragged out for ages, and it was all quite unbelievable.

Was this a realistic story? I think not!


Please e-mail me with further details if you can remember.

Ta.