Jacqui Dixon (my least favourite Brookie character) has risen from young slapper with no money to older slapper with money.
She seems to have gone from wearing shell suits and organising car boot sales, to owning half of Brookside Parade, and being pursued by a solicitor with a title and a penchant for rough trade.
She is Brookie's answer to Claire Rayner. She gives people advice freely (or rather insists they take it), but never seems to have her own life in any great order. Her advice sessions entail her speaking in that grating voice, ending the sentence on an upward inflexion, as if she were Australian or asking a question.
Jacqui was surrogate mother to Baby Harry. Max and Susannah, following a minor bump in the car, lost their two children and decided to try for another. Unfortunately it seemed that Susannah's insides were all wrong, and Jacqui's rentawomb service seemed like the best option. It leaves one wondering how dire the other options must have been.
Jacqui has never been lucky in love - her whining voice gets every man down in time. Perhaps her best bet is to look for a deaf man. Or a deaf and blind man.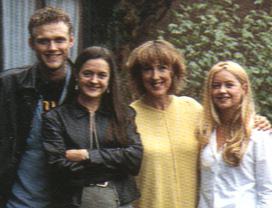 Mike, Katie and mum DD posing with Jacqui
Nathan did get her to the altar, but no further. The wedding was a fiasco. Both she and Nathan had cold feet, but in the best over-the-top soap tradition, they waited till the point of needing to say 'I do' before deciding not to.
Is she a realistic character? I think not!
Oh I hate this character. Please e-mail me with any other silly Jacqui D storylines you can think of.